Rigid Composite Structures
Longboard Project
Entry Level - No prerequisites
1.5 Credits

Course Overview
The goal of this course is to learn to understand and create lightweight rigid structures that can span large distances with minimal distortion, such and an airliner floor paneling, walkways, support beams and similar.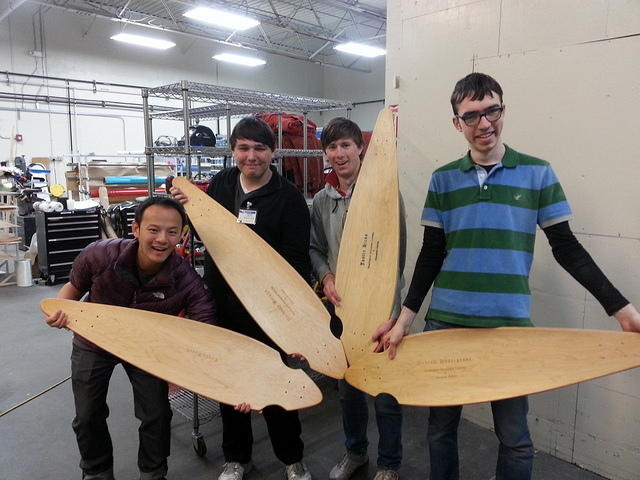 Boeing Australia students with their longboards


We've worked hard to find products for classes that are analogous to many important aerospace elements, and not rely on simple a test coupons for training. The often complex flexibility of a snowboard was based on the flex profile of a composite wing. The solid carbon fiber frame we use in the Industrial UAV Systems course is similar to many solid CFRP body parts that are drilled and fitted throughout composite aircraft. The composite longboard can be likened to many tertiary aircraft, marine, wind power structures where weight and cost might be an issue. Longboards have proven to be perfect for demonstrating how composite products can be incredibly stiff yet with a resiliency to deflection needed to survive typical abuses. By using low cost core materials to separate the more advanced (and expensive) load bearing composite surfaces students will learn how cost can be significantly reduced over solid CFRP yet still retaining appreciable strength. We'll also discuss how choosing the right core material can be critical for applications where the installed fasteners need to support weight without collapsing the structure.

This is an entry level class and anyone interested in composite manufacturing is welcome to register.


Topics
Functional properties of Fiberglass, Carbon Fiber, Kevlar and other fiber reinforcements
Resin Types
Composite layup methods
Core materials
Core fabrication
Composite stackup concerns
Tooling preparation (cleaning, release agents)
Vacuum bagging
Curing methods
Sanding and Polishing
Painting
Overview of Fusion 360/CATIA, CAD/CAM software
CNC Milling
---
Gallery
Check out our gallery of class pictures
Longboard Gallery
---
Class Dates and Times
---
Registration
New Students
First time taking a class at AMSC? Find out how to apply and register.
Get Started Admissions Application
Returning Students
Note: When searching for AMSC classes, filter the Class Search by - Academic Organization: Manufacturing.
---
Contact Damian Cianci at dcianci@edcc.edu if you have any questions.

TOP