Micro UAV Systems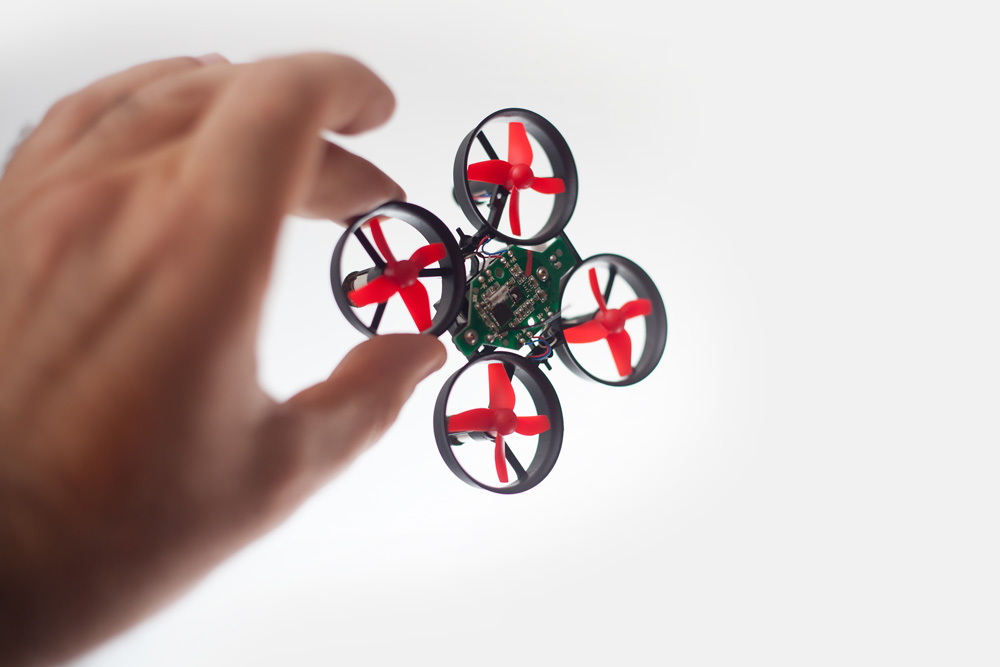 ONLINE COURSE
Currently no prerequisites
NOTE -

Due to the difficulty working with the smaller form factor, advanced camera configuration and student modifications needed all future Micro UAV Systems course coming in 2021 will be listed as a Level 2 curriculum. This will mean students will have to have previously taken either the Industrial UAV Systems or Intro to RC course.

Soldering station and materials are needed

Webcam and microphone are needed
Course Overview
This course is structured similar to the Industrial UAV Systems class but differs in the primary technology and utilization. Due to new technological developments it's now possible to build much smaller aerial vehicles that can move around at high speeds (nearing 100mph), and still have 4K HD video recording. These "micro drones" have been around for a few years, but just recently (late 2019) has a solid HD camera solution been available that doesn't induce latency in the visual flight system. This opens up more possibilities for these devices in industrial and commercial application. Our goal is to train students to build, fly and repair these devices but also spark their imagination in what possibilities are available rather than just racing and other recreational uses.

Many recent innovations have been brought together to create such an advanced, small sized form factor vehicle that can still be utilized for practical use. Smaller toy drones do exist, but these vehicles have nowhere near the stability and control needed to operate outdoors in even mildly harsh environments. High powered small diameter brushless DC motors, faster microprocessers, and advanced stabilization software have all lead to the current iteration of these flying vehicles.


Topics
RF Communications
Antenna theory and practical application
Three phase brushless motor operation
Electronic Speed Controls
Battery Theory and Technology
Power Requirement Calculation
PID Control and computer based flight control
Soldering (This is a major part of class)
Composite Materials
Precision measuring tools
Hand tools
Community resources
UAV History
One of the topics in class is the evolution of these vehicles over the years, especially how quickly things have changed in just the past two or three years and how many peoples perception of a drone may be based on technology several revisions past (even though this might just be a few years back). Due to massive advances in electronic hardware, physical hardware, and configuration software these vehicles have decreased in sized, increased dramatically in speed, but also stability and control. These types of vehicles might look to some like toys, but in reality are highly specialized professional vehicles complete with telemetry feedback and first person video, capable of performing precision tasks much more efficiently than their earlier predecessors. We will always stay as close to the state of the art in this technology as possible which means the components used in class will change.
Flight Training
Piloting these aircraft is also a strong element of the class. In order to perform tasks in the field or in factory you will need to develop strong navigational skills, which is by no means an easy task. There are many toy drones you can buy that are incredible simple to fly because of all the control software enabled on them, but if you want to do anything more advanced, this is a major limitation. Another reason it's imperative to have the good flight skills is to understand the control software and how to tune an aerial vehicle to your needs. PID feedback loops, flight modes, and stick rates are just a portion of this. We do have simulation software and practice vehicles to provide training in these areas.


Safety
This technology is growing at an incredible rate and people are beginning to see these in one form or another in many places. The accessibility of toy indoor micro drones has created a high visibility of the UAV concept, yet what we want to impress upon everyone in class is that as the technology has decreased in sized to the point where they can look like toys, the power and velocity are increasing. So be fully aware that these are professional machines, and can be extremely dangerous. We've been teaching manufacturing course for many years now, and of all the dangerous shop equipment, these machines require a much higher sense of awareness and compliance to safety protocols.


Certification
Due to the safety requirements, as well as local regulations, we will discuss all the current requirements around the use of these vehicles and what students might want to do if they wish to use these for profit.
---
Software Needed
You can install if you like but at least check the system requirements.

BLHeli_32


This is an optional item and might be included in class

Liftoff Flight Simulator


Typically installed through Steam
---
Online Course Information
A few days prior to the course you will receive an email invite to the video class meetings. Typically this is Webex. We'd also recommend using the webex client install rather than the just the webpage video. Other items such as the class website and materials pick will also be discussed after class start. No materials are required for the first class sessions. All you need to do is log into the video meeting.
---
More Distance Learning Specifics
This has been one of our high demand courses that, like a few others, almost isn't possible do online. In order make this work, students will have to have the necessary equipment for soldering electronics, a well lit area, good ventilation and a place to store their work out of harms way. For some of our students this is a typical situation and would not be an issue but we do realize that this is not the case for all. Unfortunately though, this has to be the case so please understand this before registering. Having said that we did create the SMD Soldering Online course that will provide materials that could meet these requirements as well as the requirements for our other robotic courses. If you plan on building and maintaining UAVs and/or getting into the UAV industry having a dedicated electronics/robotics lab is really a necessity.

The online structure of class will consist of one hour live video conferencing for lecturing and questions and further time spent off class time working on necessary tasks.

The class website will contain device documentation, vendor information, technology concepts and videos.

Currently we will we using Webex as our video conferencing software. You do not need to make an account to join the live sessions. An email will be sent out to all students including the time and dates, web link to the meeting and password. You will need to have a webcam and microphone for this class.
---
Other Important Class Information
It should be stressed that this class demands a lot of technical application. Some of the key points are listed below.
Please do not sign up for this course if you are not prepared to deal with fairly complex technological concepts.
We are teaching this course to prepare individuals for the perceived wide spread usage of remote aerial vehicles in all industries.
Students will learn to build from the component level frequently without any specific "step-by-step" directions from manufacturers.
There will be a great deal of soldering involved in the course.
These are not autonomous vehicles. We do not use GPS or any other navigation mechanisms. We feel this takes the student further away from the core understanding of the vehicle operation.
The components of these vehicles are typically very cutting edge new technology. Students should not expect to find materials or equipment as part of a kit. These are not made by the same manufacturer nor do they have detailed interoperability diagrams. Therefore step-by-step, or the clearest of instructions is not at all expected. Please understand this fully and be prepared for it. Learning how to learn what to do, rather than what to do for this specific instance, is a core concept of the course.
As an example of the rate of technology change, most of what we are building will change within a few months. Often sooner. A vehicle from two years ago is nearly antique in comparison.
You will inevitably crash the vehicle you build in class (often very early on) as you're learning how to navigate. This is shocking to some but it is the nature of this field. In our eyes this makes for the perfect training tool. You will have to learn to repair these robotic systems or you won't have an operational aircraft
---
Class Dates and Times
Mailing List Signup
- Click here to get notified of upcoming classes!
---
Registration
New Students
First time taking a class at AMSC? Find out how to apply and register.
Get Started Admissions Application
Returning Students
Note: When searching for AMSC classes, filter the Class Search by - Academic Organization: Manufacturing.
---
Contact Damian Cianci at dcianci@edcc.edu if you have any questions.

TOP